Our Boot Camp Members Love Us!
My husband and I have been Nyack Boot Campers for two years, and it has transformed our bodies and our lives. We were both physically active pre-kids, but once we became working parents, we struggled to find the time to work out. Then we found Nyack Boot Camp. Not only is squeezing in 3 workouts/week manageable, we both look forward to each and every session! No two workouts are alike, and while challenging, they are rewarding and give you results. Beth and Peter are incredibly knowledgeable and enthusiastic, and they truly want their clients to succeed. We feel as though we are two of many Nyack Boot Camp success stories, as our 40-something bodies are stronger and leaner than ever before. If you're looking to get the most bang for your workout buck, then head to Nyack Boot Camp – you won't be disappointed!
—Kirstin Russell
I was an unlikely student for Nyack Boot Camp, with severe scoliosis over 65% curves, broken Harrington rods up and down my spine. And yet, with menopause on the horizon, a genetic disposition for osteoporosis I thought heck! give it a go! I'm 6 months into Bootcamp now, feel completely safe and supported with their wise guidance, and not looking back. —Zara Crowley
Training with Nyack Boot Camp has entirely exceeded my expectations. Not only have I grown dramatically stronger and more defined, but my longstanding struggles with migraine headaches and fatigue have significantly improved in ways that nutritional changes and medication treatment alone have been unable to alleviate. I can't recommend Beth enough as a teacher. Her firm but sensitive approach to fitness and careful attention to body alignment have made it a fun, exciting, and safe fitness experience.
—Erika Brown-Campbell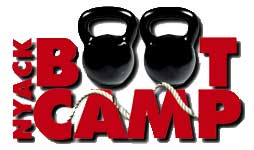 Real Results, Real Fast
I joined Nyack Boot Camp at age 55. I gained a ton of strength, piled on self-confidence, and found a group of friends who inspire me every day. Today, at 58, I feel like I got back at least a decade of health and well-being, thanks to Peter and Beth. And oh yeah, I'm down 20 pounds.
— Julie Harman

Ready for Results?
Why wait to claim your best body ever?
Receive a FREE TRIAL CLASS when you join Nyack Boot Camp today!
Join Nyack Boot CampToday!
When I started Nyack Bootcamp I half expected a punishing military experience and happily found the rigorous classes geared for a diverse range of physical ability and ages. Being a runner for many years I noticed a difference in strength and tone very quickly with their whole core workout. Peter and Beth know just when and how much to safely push you a little farther that you thought you could go which is exactly what I was looking for in a group workout. Variety is the spice of life at Bootcamp and the routine is changed up constantly which literally keeps you on your toes. The workout is rigorous and the results are addictive.—Mike Shaw
My core body strength, stamina and overall muscle tone is the best it has been compared to just running as a workout!Ed Mooney