---
At Nyack Boot Camp, our workouts change bodies and lives. Whatever your health and fitness goals — weight loss, a muscular and toned body, a better tennis or golf game, an improved race time, or increased strength to keep you active and independent in your middle and senior years — Nyack Boot Camp delivers the right training to help you feel powerful and stay motivated.
---
I was never the athletic type. I never stuck with any form of exercise before Nyack Boot Camp. Now I can't imagine not going.
Nancy Feeley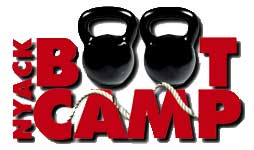 Fun Fitness
We call our boot camp workouts "recess for grown-ups" because we maximize your fun and results and minimize repetition and boredom.
Free Trial
Join us for our next Boot Camp 101 workout and receive a FREE TRIAL class when you you become a member of Nyack Boot Camp.

Join Today!