Energy Boosting Results
FAST & EFFICIENT
Real results, real fast in only three workouts a week. Hectic lifestyles don't leave a lot of time to work out. The traditional approach to fitness required alternating days of cardio and strength training. Because our boot camps combine cardio and strength-training in each 1-hour workout, you can see real results in just 3 days per week, rather than in 5-6 days per week with the traditional approach.
ENERGY BOOSTER
Our boot camp workouts help you power up, literally. As you improve your posture and cardiovascular system, more oxygen, blood, and nutrition flow to all the organs, tissues and systems in your body. This boosts your energy to help you keep up with your busy life.
LEAN MUSCLE, NOT BULK
Muscles bulk up when they are exercised in an isolated, unnatural, reduced range of motion manner. With our metabolic workouts, you'll work every muscle group in natural and complete range of motion movements to sculpt strong, lean
muscles that fit your body.
FAST-ACTING ANTI-DEPRESSANT
Exercise is a proven antidepressant. That's because working out promotes a massive release of mood heightening endorphins into the blood. Also, exercise combats stress and the hormonal and neuro imbalances that affect mood, reduce energy and cause depression. So working out with Nyack Boot Camp will help you increase strength, reduce stress and help prepare you to take on life's challenges.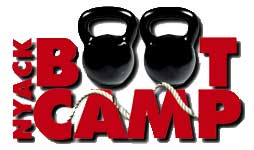 Real Results, Real Fast
Being a runner for many years I noticed a difference in strength and tone very quickly. Peter and Beth know just when and how to safely push you farther than you thought you could go. The results are addictive.
— Mike Shaw

Join Today
Why wait to claim your best body ever?
Receive a FREE TRIAL CLASS when you join Nyack Boot Camp today!
Join Nyack Boot Camp
I had a personal best today and felt super strong the whole way. Thank you for kicking my butt. I see the results!Gravity Goldberg